28549,28552,22275,26679
When it comes to garment design, very few features hold quite as much significance as logo branding. As with practically all fields of modern-day consumerism, logos in fashion are important not only for enhancing brand recognition, but also as a means of guaranteeing the designer's signature mark of quality and expert craftsmanship. It's the ultimate way of proclaiming that the piece in question is very much the 'real deal' and we in turn use them as a means of aligning ourselves with this premium lifestyle.
The all-over logo-jacquard aesthetic takes this concept a step further, incorporating iconic logos and insignias into unique motifs to essentially create a new and innovative class of artistic expression. It's a brave new world where the logo is no longer considered a mere afterthought. Instead, it's become a pioneering facet of the increasingly popular 'more-is-more' approach to contemporary fashion design.
We're absolutely embracing this evolving trend and so for our latest feature, we've gathered together a handful of our most beloved logo-jacquard styles for you to treat yourselves to…
Moncler Pierrick Red Logo Backpack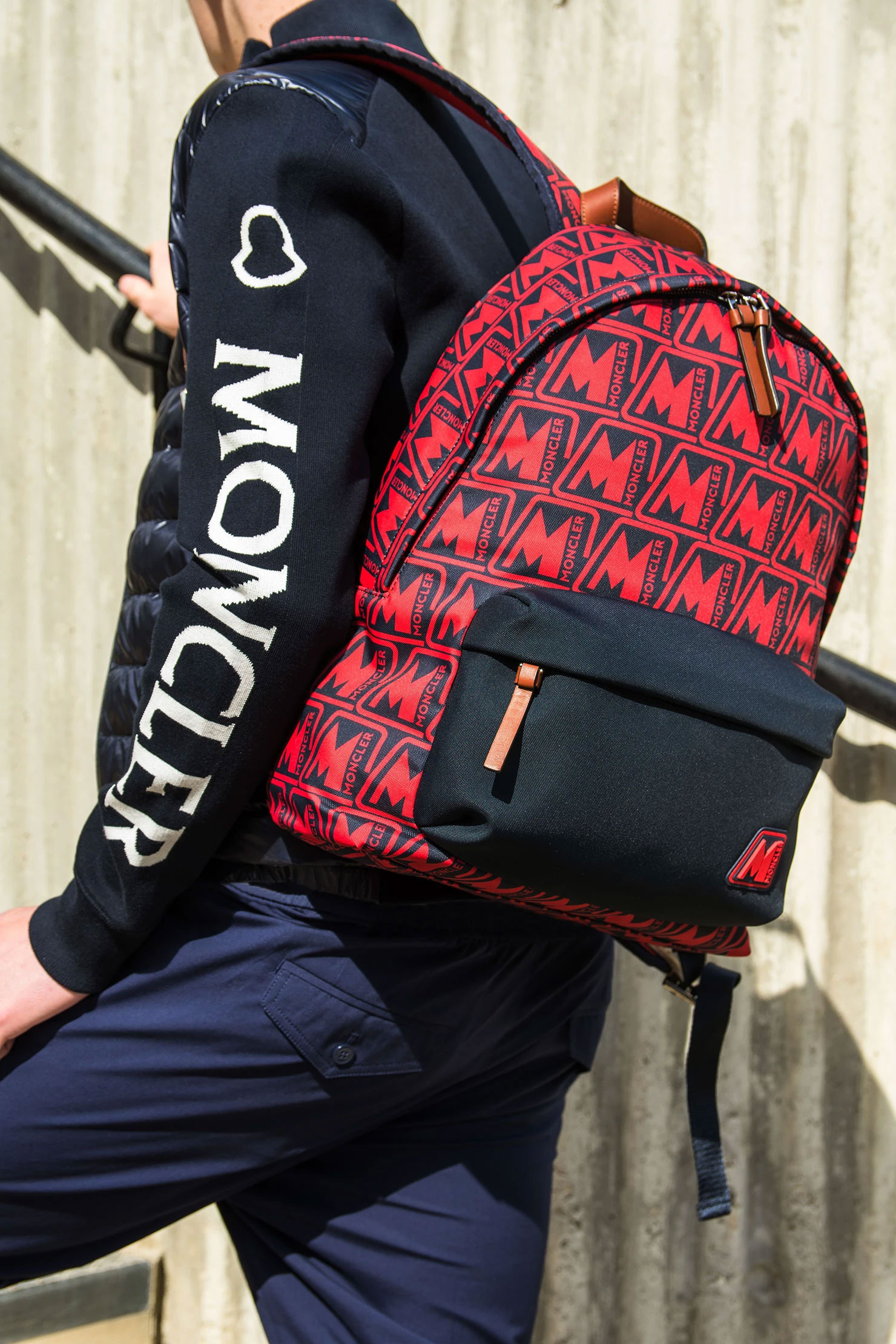 The new 'M Moncler' logo is a modern, slightly more dynamic alternative to the traditional Monduck emblem, one that gives a welcome sense of freshness to our featured Moncler Pierrick Red Logo Backpack. With its bold, all-over logo jacquard design, it really does a lot to stand out from the crowd, offering a unique twist on the archetypal Moncler aesthetic while still fundamentally remaining true to the label's core foundations. There's a certain flamboyancy and edginess about it that brings it from the world of the mountain to the world of the concrete jungle, more than proving its worth in both arenas.
Valentino White VLTN Times Print T-Shirt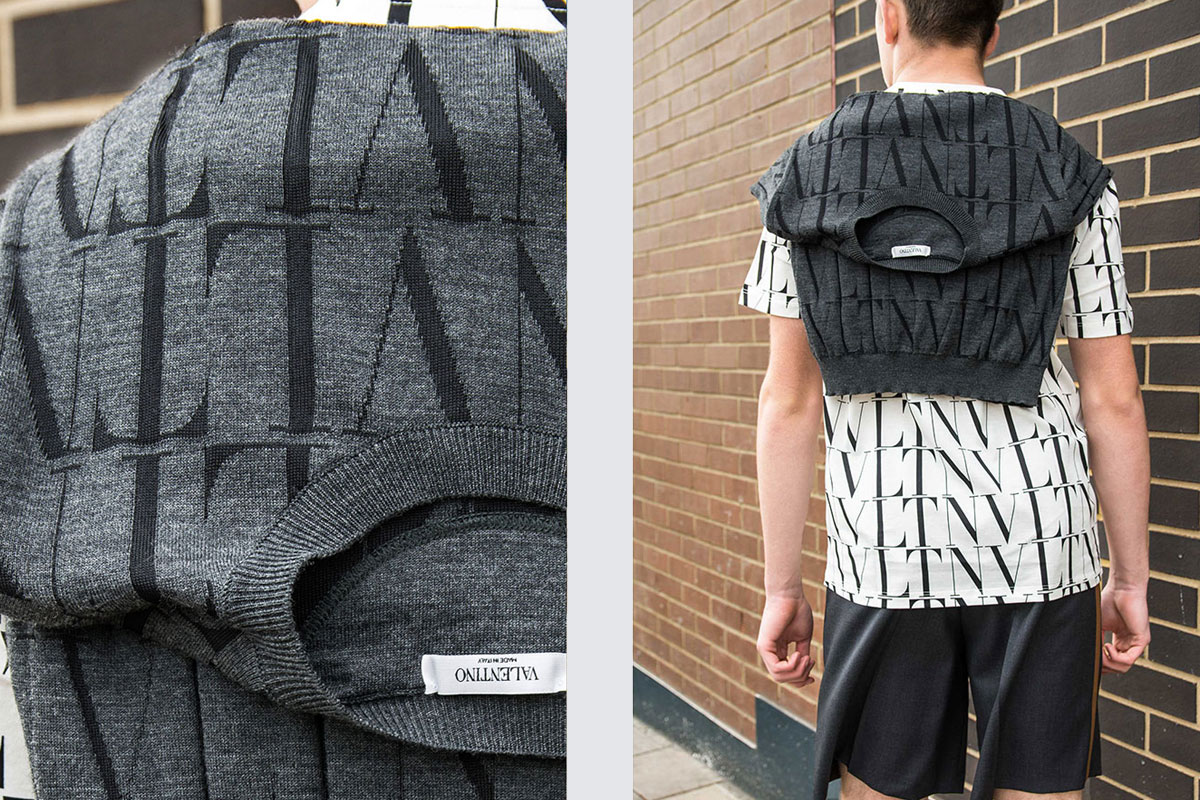 Valentino's 'VLTN' print has successfully cemented its status as one of the designer's most quintessential logo graphics in recent seasons. The 'VLTN Times' print effectively doubles down on this now established archetype, with an all-over design that features heavily throughout their latest collection. As is the case with this Valentino White VLTN Times Print T-Shirt, the print is oftentimes showcased in a monotonal colourway that simply exudes class. And that's important for ensuring that the aesthetic aligns with the core principalities of the Maison. We're huge fans of the bucket hat's simple black and white colour palette and have opted for a similarly monochromic outfit to match. The result is a sleek and chic vibe that avoids the obvious potential pitfalls of becoming dull or uninspiring. Also featured in this look is the equally impressive Valentino Grey VLTN Times Technical Wool Sweater.
Balenciaga Blue All-Over Logo Large Fit Denim Jacket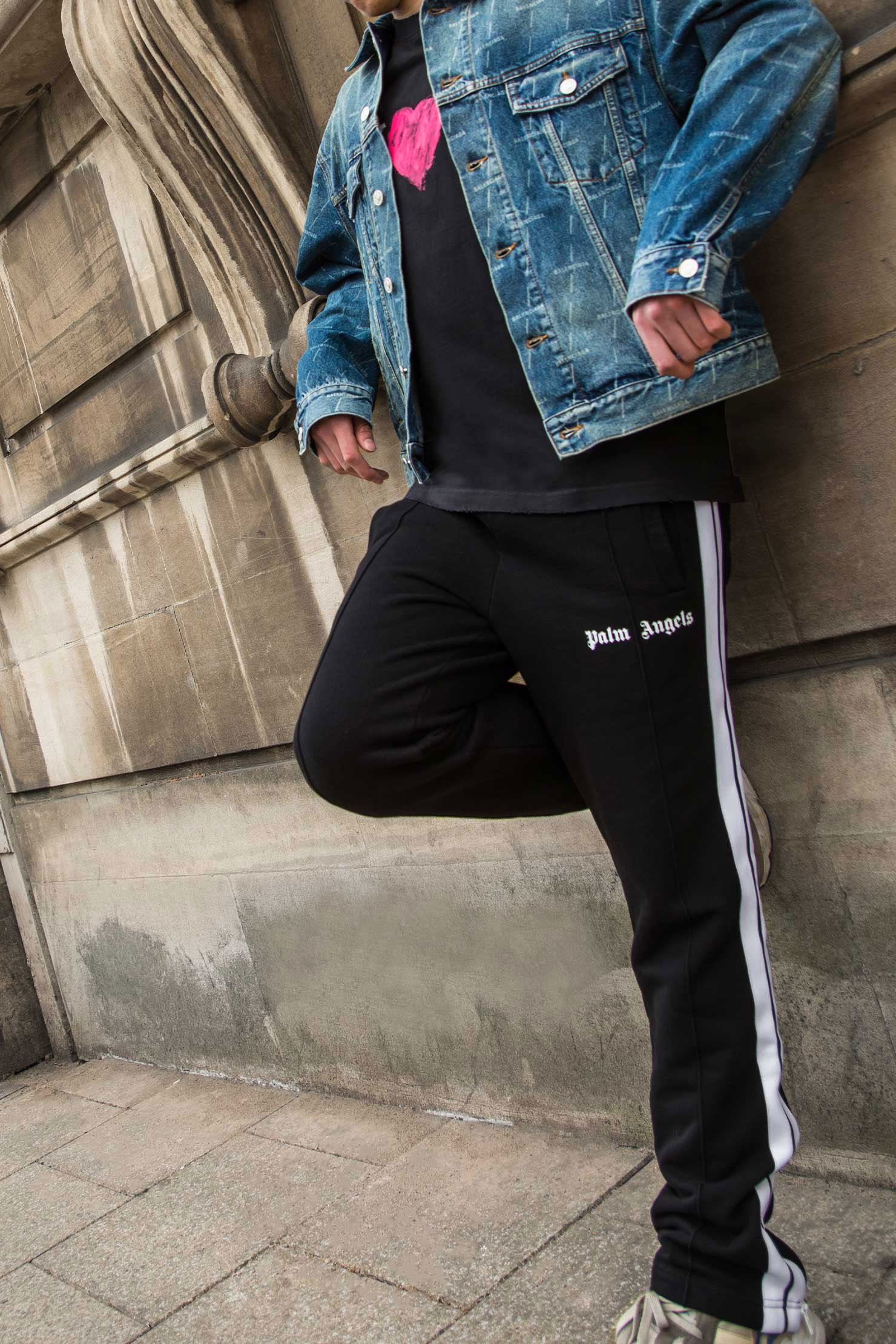 When it comes to brand representation, Balenciaga always understands the assignment. Popping up in a variety of forms, shapes and sizes, you can always expect to see some variation of the iconic 'Balenciaga' logo emblazoned across the majority of styles in their ready-to-wear collections. The Balenciaga Blue All-Over Logo Large Fit Denim Jacket takes this tradition to the next level, featuring an all-over logo jacquard design that manages to capture that unapologetically brazen attitude that defines the contemporary streetwear look without ever seeming gaudy or ostentatious. The logos themselves are slightly washed out and blend into the fabric's base colour neatly ensuring that they don't draw too much attention to themselves.
Christian Louboutin Hop'N Zip Black CL Logo Backpack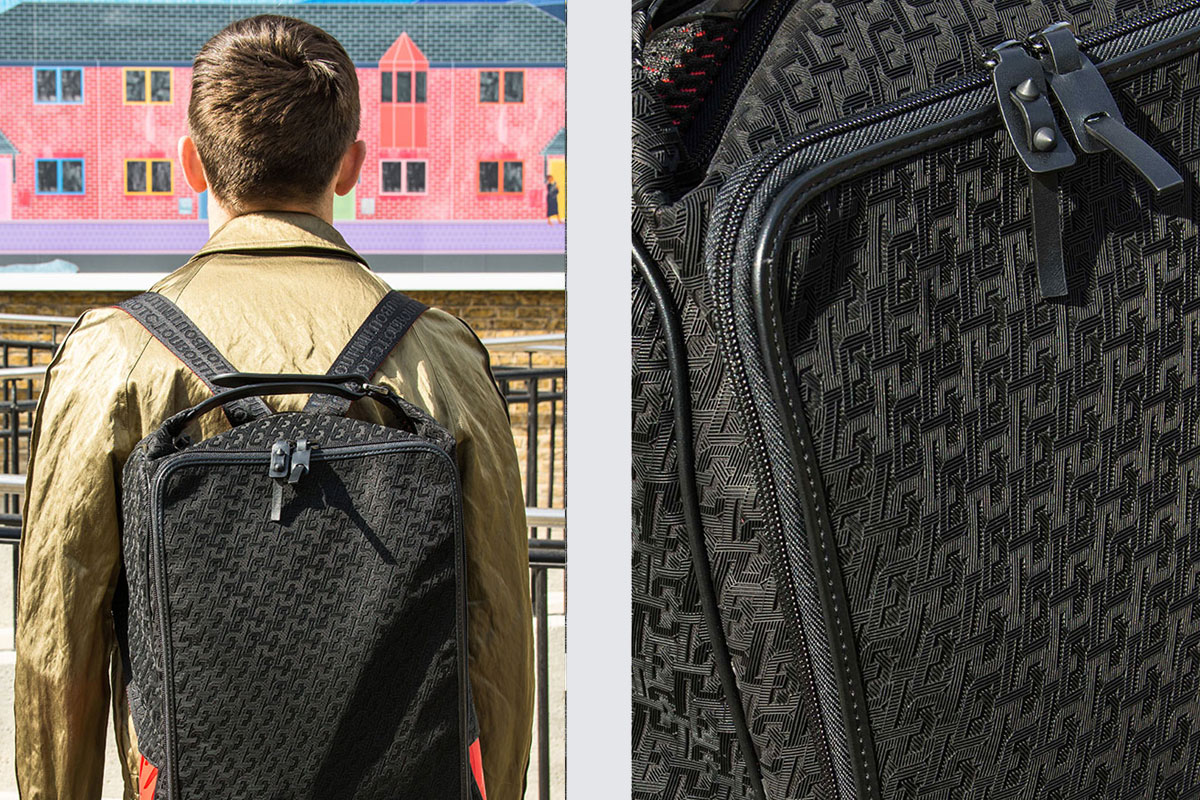 The CL logo jacquard design brings a fresh new perspective to Christian Louboutin's latest portfolio. The cascading CL logos suggest a slightly more upbeat and playful vibe than perhaps we're used to seeing from a label that has become so synonymous with red carpet-level sophistication. Our featured Christian Louboutin Hop'N Zip Black CL Logo Backpack is tailor-made for the urban environment, more suited for off-duty weekends out on the town than some of the more dressy accessories in the Louboutin catalogue. As you can see from the above pictured outfit, we see this backpack really coming to the fore in a modish getup that you'd reserve for an evening at your favourite rooftop bar.