35931,36433,36430,36427
For many of us, being prohibited from vacationing abroad has been one of the most painful upshots of the global pandemic. It's only recently that the world's most popular holiday hotspots have begun to relax their restrictions on travel and open up to tourists once again.
But open they have and, as expected, travel demand is at an all-time high! This is, of course, exciting for a number of reasons, but from a fashion perspective, it's monumental. Opening up the world opens up a world of new styling opportunities that we're effectively lost to the pandemic.
In the run-up to an expectedly jam-packed summer, we're shining a spotlight on our diverse and eclectic selection of swimwear styles to help you make the most of the vacation season.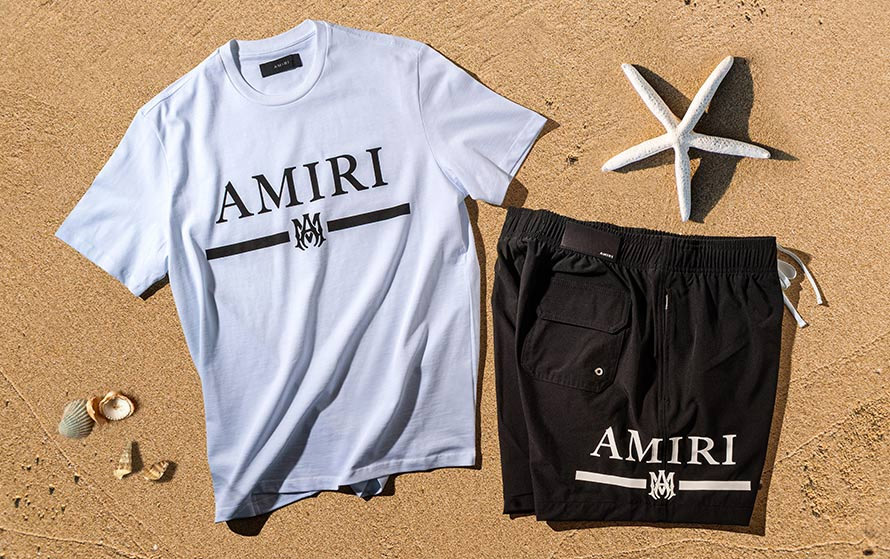 Mike Amiri's relative inexperience with designing beach and swimwear certainly should not deter you from opting for these Black M.A. Bar Swim Shorts, a refined and respectable choice for those looking for a bit of subtlety and class in their poolside outfits this summer. And in keeping with that spirit, we've paired ours with this M.A. Bar Logo T-Shirt in the directly opposing colourway to complete the co-ord aesthetic.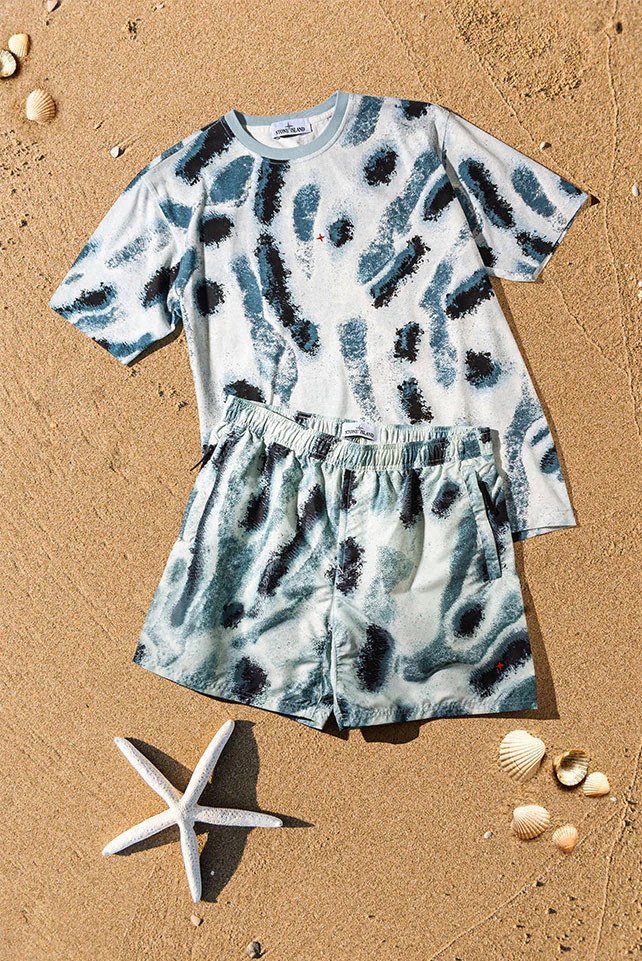 Stone Island's 'Marina' story is undoubtedly one of the highlights of their SS22 menswear showcase, a capsule that references designs and motifs from their well-established archival catalogue. The cool blue camo print displayed on these Marina Reef Camo Swim Shorts is perfect for your beach getaways this summer, the pattern in question bearing a slight resemblance to a stunning coral reef. Complete the look with the matching Graphic Print T-Shirt and transform your beach wardrobe.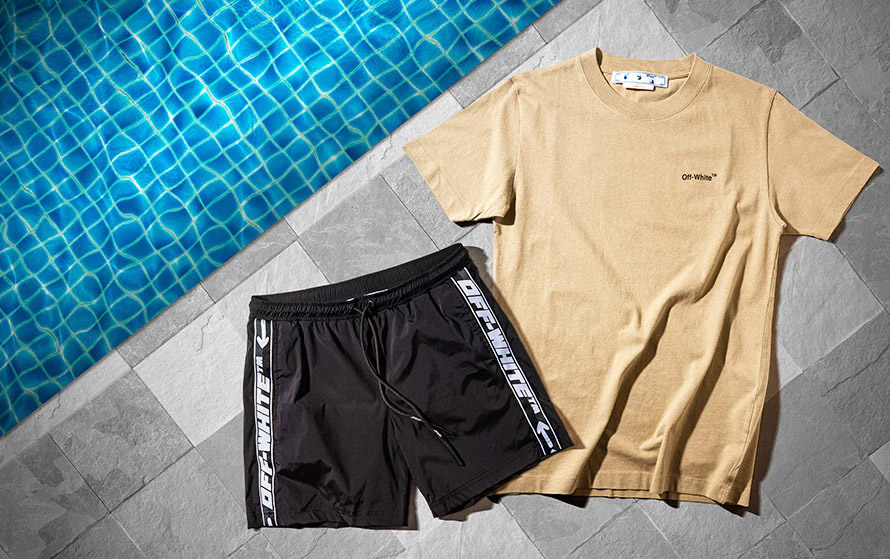 Off-White's featured Logo Band Swim Shorts are a favourite of ours this season, the standout feature being the sporty logo side bands that help to enhance a relatively stripped-back overall design. They're playful and fun, all while maintaining a somewhat low profile that adds to their versatility. To really press home that last point, we've styled ours with this Caravaggio Arrow Slim T-Shirt in a contrasting 'Dark Sand' colourway, demonstrating how the unassuming nature of our featured swimmers can allow for some truly diverse outfit combinations.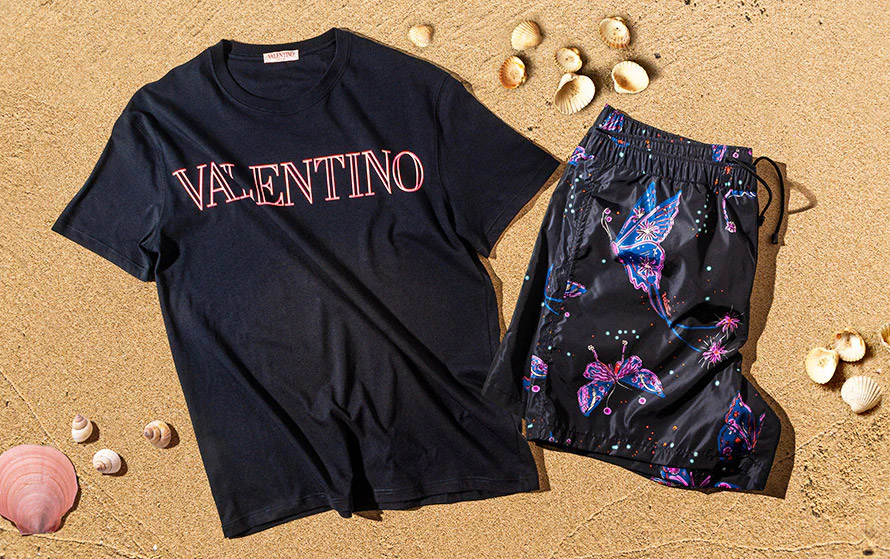 Bright and bold neons have been a recurring feature throughout our SS22 showcase and no label has leaned into this theme quite as enthusiastically as Valentino. The 'Utopia' story reestablishes Pierpaolo Piccioli's fascination with the natural world and the beauty to be found therein. The wistful splashes of neon pink found in our featured Utopia Butterfly Print Swim Shorts really compliment the new 'Neon Universe' logo signature (which is displayed here on our accompanying Neon Universe Logo T-Shirt) and help to bring the entire collection full circle. We're backing these swimmers for everything from sun-drenched pool parties to family days on the beach and everything in between.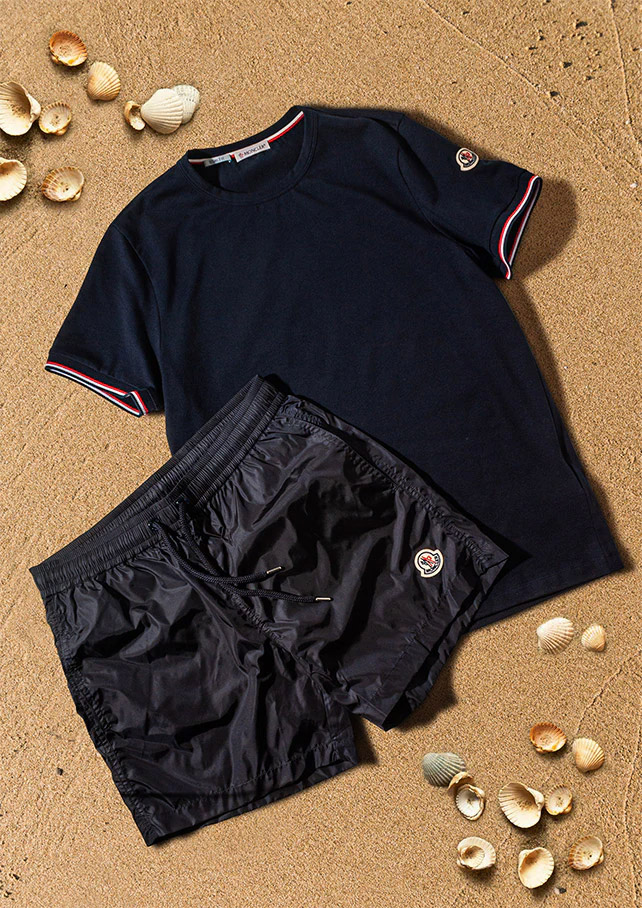 For many a year, Moncler has been the label of choice for many luxury fashion enthusiasts looking for swimwear options to bolster their summer wardrobes. Moncler swimwear styles like our featured Navy Blue Logo Badge Swim Shorts have remained consistently popular amongst our clients and much of that success can be attributed to their timeless (and sometimes seasonless) designs. This featured pair cuts a minimalist, yet effortlessly chic figure with subtle tricolour trimmings and the ever-present Moncler logo being the only real standout features at a glance. It's a staple silhouette that should find a place in any vacation wardrobe. Speaking of staple styles, why not pair yours with this pictured Tricolour Sleeve Stretch-Cotton T-Shirt for a classic Moncler look?