32170,32167,32164,24115,24875
The winds of winter (or at least autumn at this stage) are slowly beginning to descend upon our shores, necessitating a re-evaluation of our daily wardrobes and getting us all excited for winterwear once again!
Right now, the ol' faithful padded jacket is having its time in the sun (and soon to be snow!), from luxurious down jackets to technical ski coats and everything in between. Our latest feature celebrates this essential trend with a diverse selection of standout padded jackets from our showcase, all designed to keep you suitably shielded from the cold and looking sharp at the same time…
Moncler Grenoble Montgetech Dark Green Down Jacket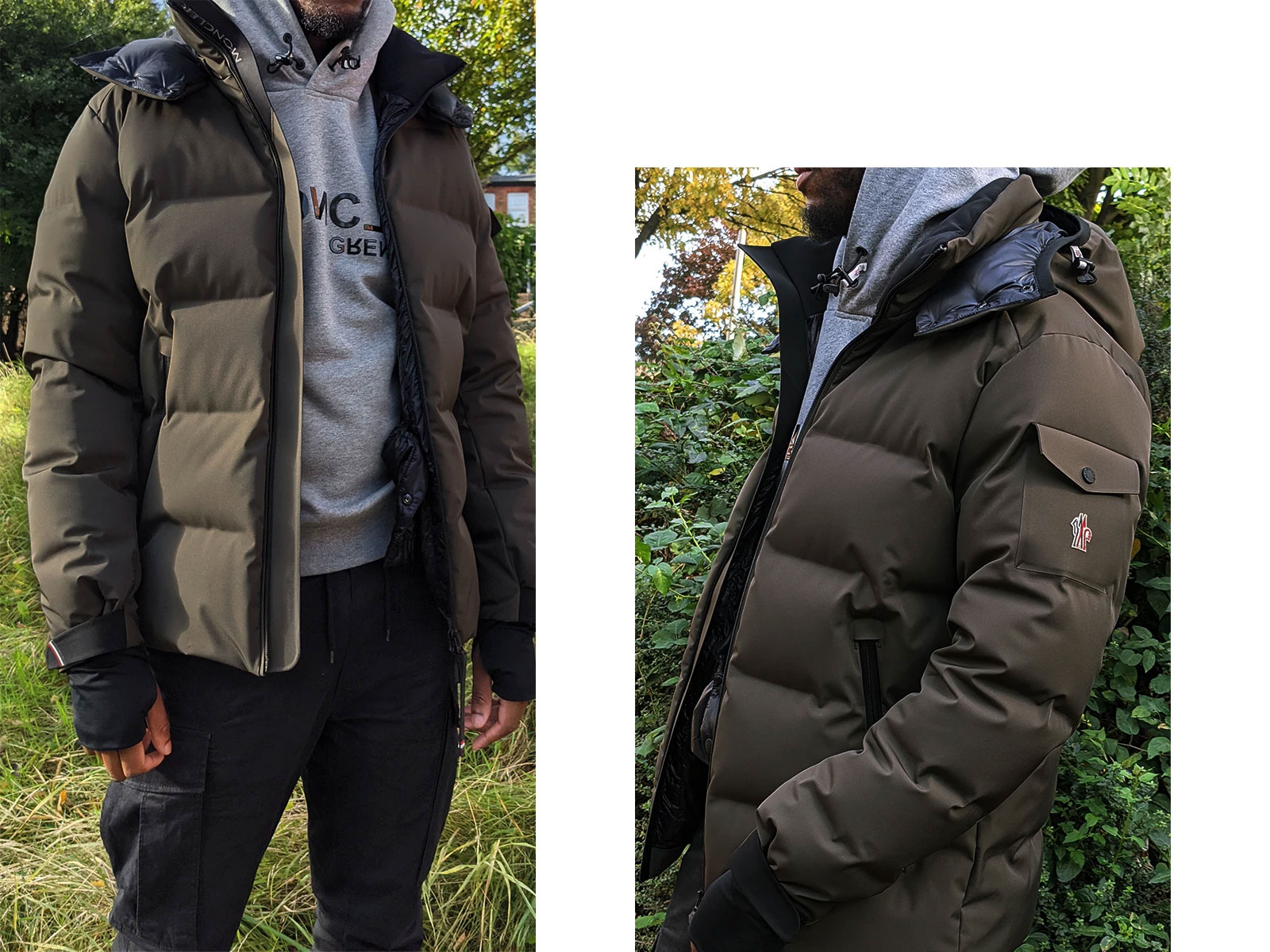 The 'Montgetech' jacket has become an iconic silhouette in Moncler Grenoble's permanent collection and with this latest iteration, it's not hard to see why. With on-brand features such as heat-taped, waterproof zippers, thumb loop wrist gaiters and a convenient lift pass pocket at the lining, Moncler Grenoble's Montgetech Jacket absolutely encapsulates the spirit of Grenoble in that every facet of its design is geared towards providing optimum performance and comfort on your mountainside adventures. An après-ski enthusiast's dream, the Montgetech really is the perfect specialist jacket for connoisseurs of winter apparel.
Moncler Idil Sky Blue Down Jacket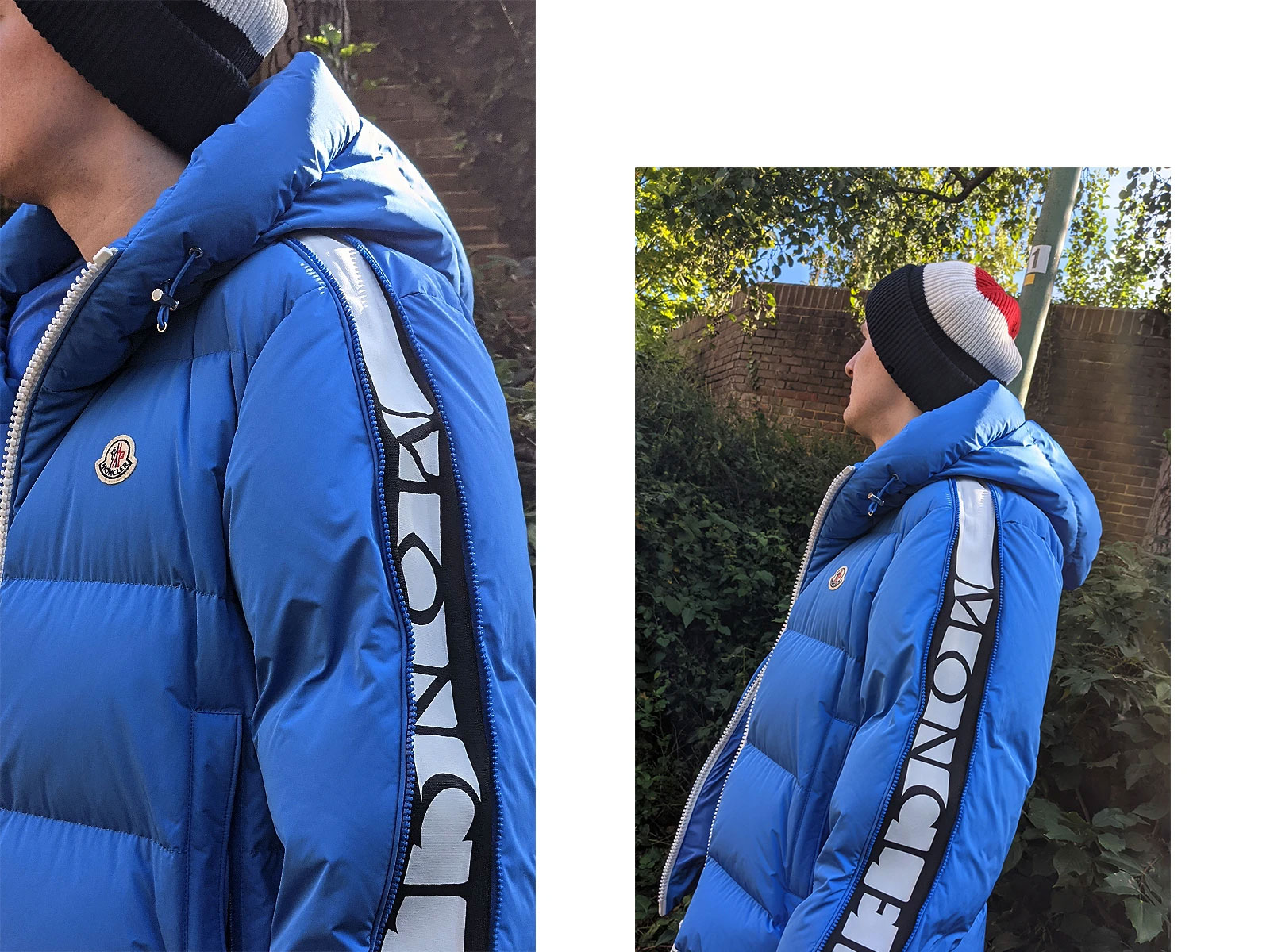 Moncler Idil Sky Blue Down Jacket is sure to add a playfully sporty twist to any outfit accompanies, due in part to its high-performance design and exciting, electric blue colour palette. But the star of the show here is actually not immediately noticeable at first glance… Dig a little deeper and you'll find gusseted under panels concealed behind long zips on the sleeve, one bearing the 'Moncler' brand logo for a hidden surprise. Moncler's best-in-class down jackets are often much more than they might appear on the surface and features such as this only go to reinforce this sentiment beyond contention.
Valentino Black VLogo Print Nylon Puffer Jacket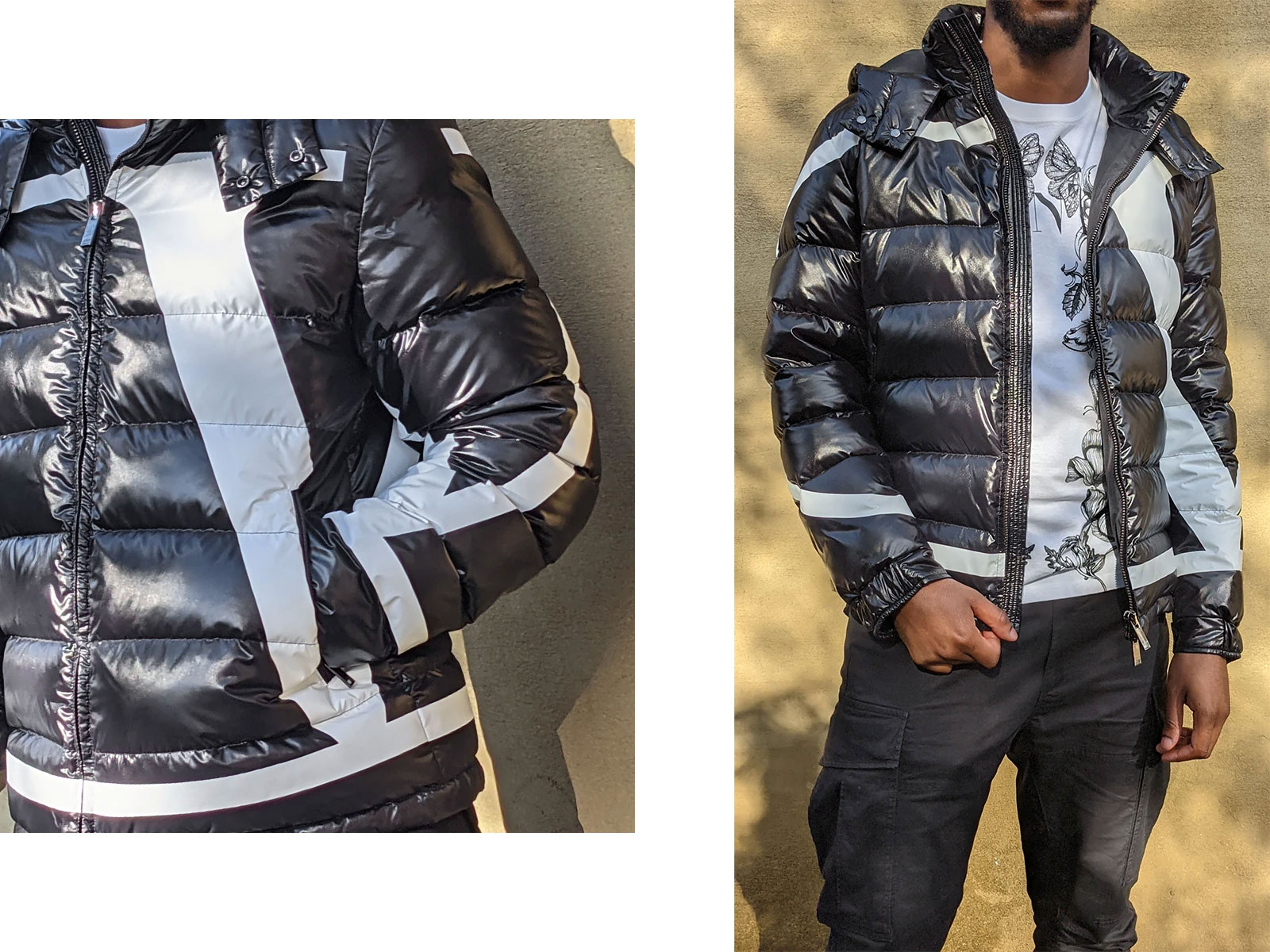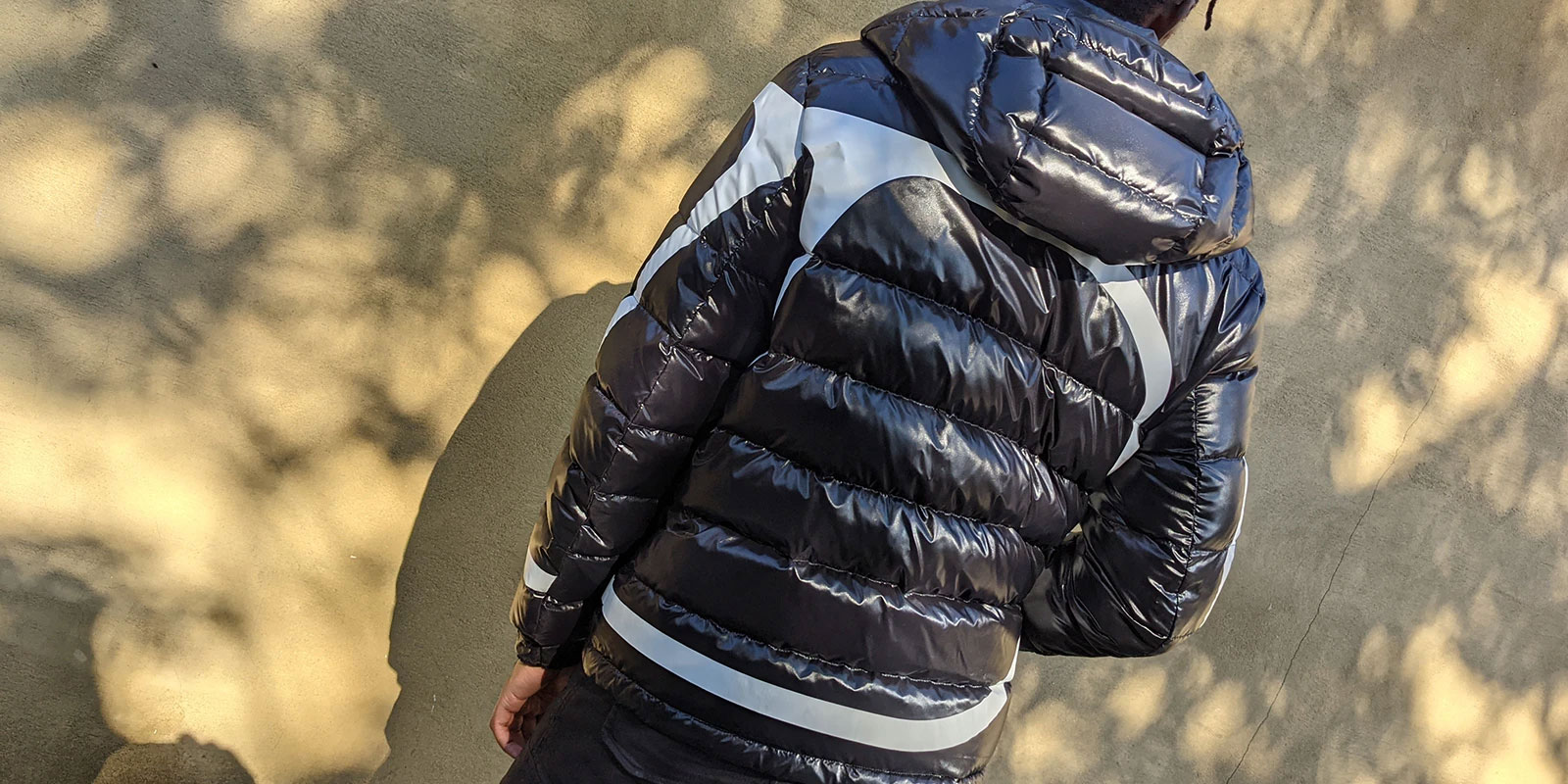 Valentino's Pierpaolo Piccioli takes all the knowhow and savoir-faire of the famous Maison and applies it expertly to this VLogo Print Nylon Puffer Jacket from their AW21 showcase. The monochromatic colour tones and subtle nylon lustre lend an indelible sense of class and elegance to a wardrobe classic that can tend to be somewhat clunky and awkward if mismanaged in production. But that couldn't be further from the case with this style. Our featured jacket would feel entirely dress code-appropriate in any smart/smart-casual get up, pairing perfectly with your more on-duty knits, jeans and boots.
Balenciaga Red C Shape Puffer Jacket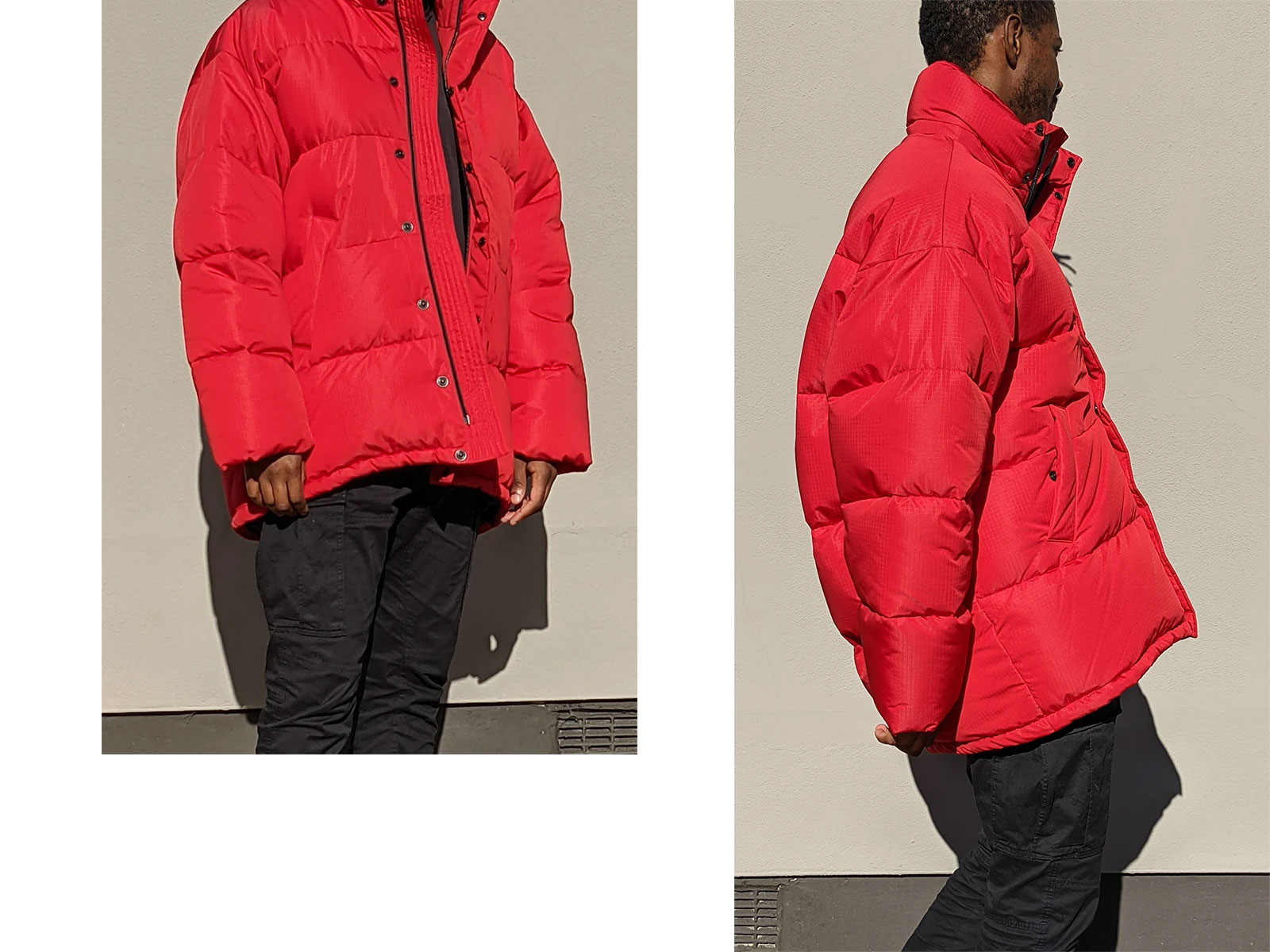 Balenciaga's recent collaborative campaign with Americas's favourite animated family 'The Simpsons' has brought certain iconic styles, such as this Red C Shape Puffer Jacket, right back into the spotlight. By now you've probably seen the image of Homer Simpson rocking a bright red, oversized padded jacket doing the rounds on social media and while it's not quite a 1:1 replica of the piece we're discussing, it does bear an uncanny resemblance. But don't fret, the standout shape, fit and colour of our featured jacket ensures that it has more than enough to stand on its own two feet, even without The Simpsons' patriarch to add to its profile! Balenciaga's C Shape Puffer has become an iconic demonstration of the wonderfully unconventional aesthetic that the label has cultivated, especially whilst under the control of Demna Gvasalia.
Givenchy Black Logo Puffer Jacket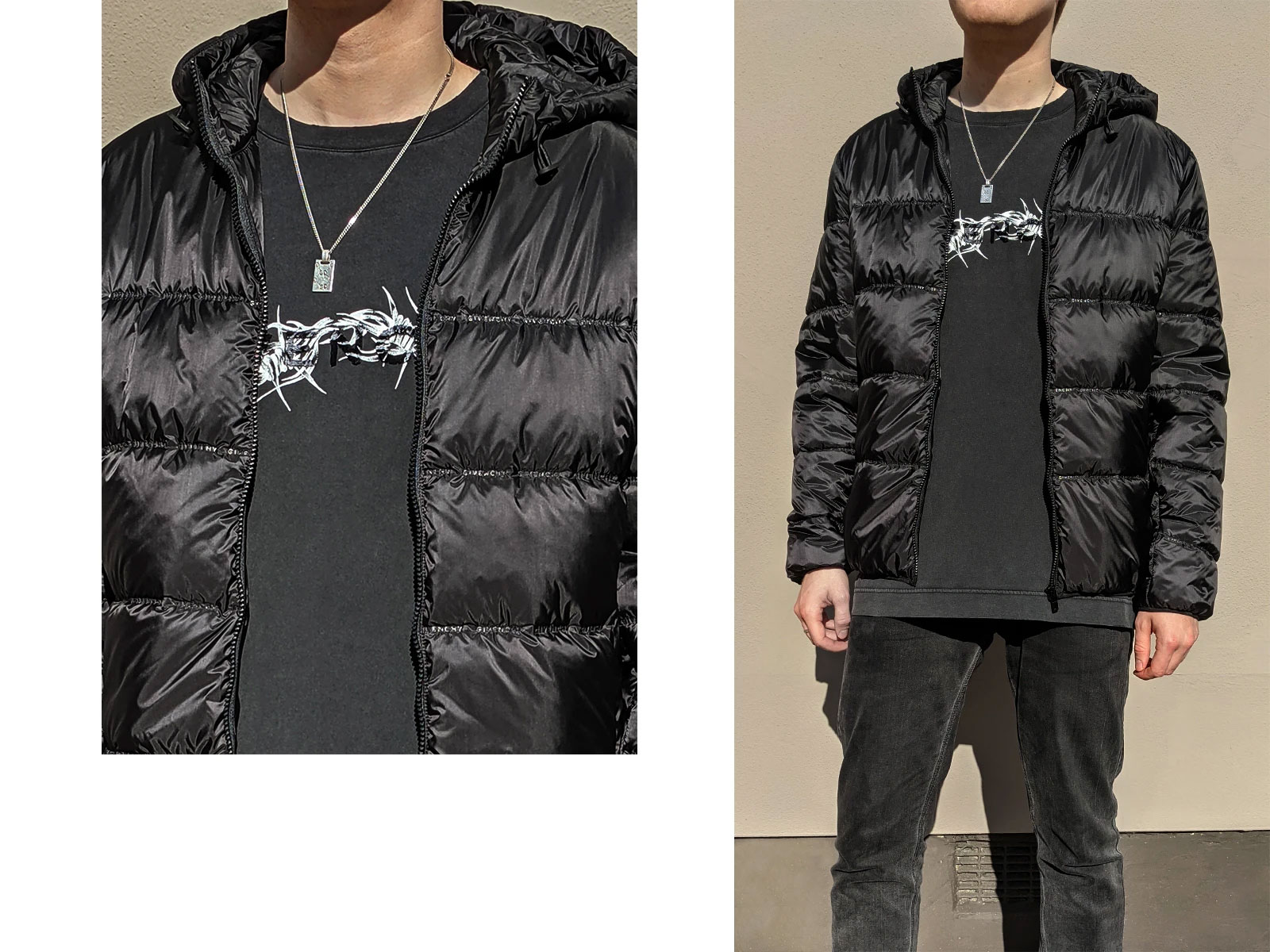 The devil's in the detail with this Black Logo Puffer Jacket from Givenchy, which favours subtlety over flashiness in its design. You'd be forgiven for thinking that the designers have opted for a totally clean, logo-less approach at first glance, but look a little bit closer and you'll find a motif of tonal 'Givenchy' logos running around the width of the outer shell. Such a nuanced artistic approach makes this down jacket ideal for more office and workwear-type wardrobes, whilst still retaining the charismatic flair that sets the likes of Givenchy apart from the competition.
Stone Island Shadow Project Black R-Nylon Jersey Down Jacket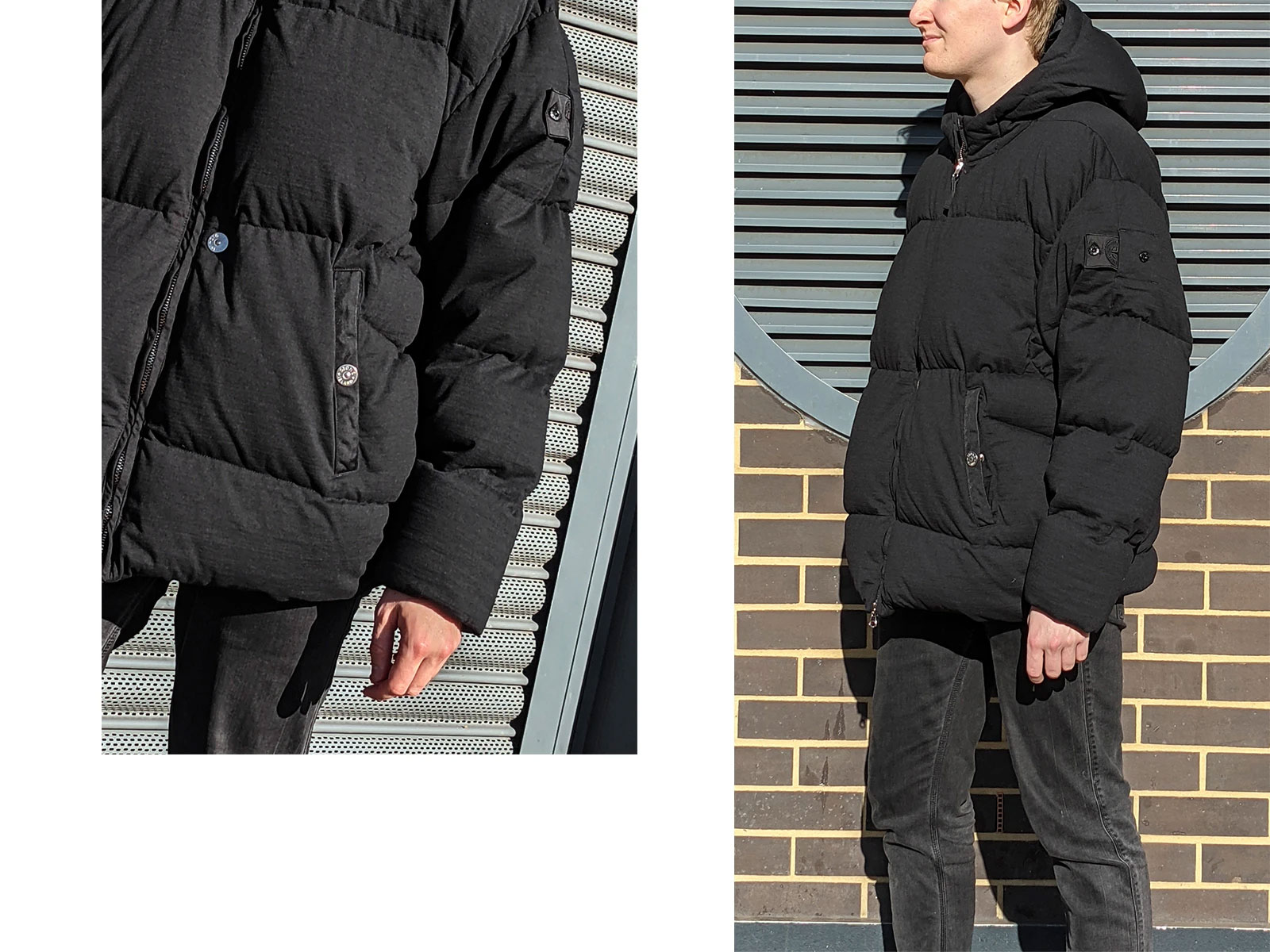 The defining feature of Stone Island Shadow Project's R-Nylon Jersey Down Jacket is undoubtedly the 'R-Nylon Jersey' fabrication itself – a Stone Island Shadow Project original that is designed to give the feel and appearance of the type of jersey fabric you'd expect to see in a sweatshirt. As such, it's eminently wearable and somewhat understated in its design; but in a refreshing way. For all the multi-faceted layers of Stone Island Shadow Project's typical fabrication processes, it's great to see that the designers posses so much skill at the other end of the spectrum, where constraint and minimalism are valued as equally as important qualities.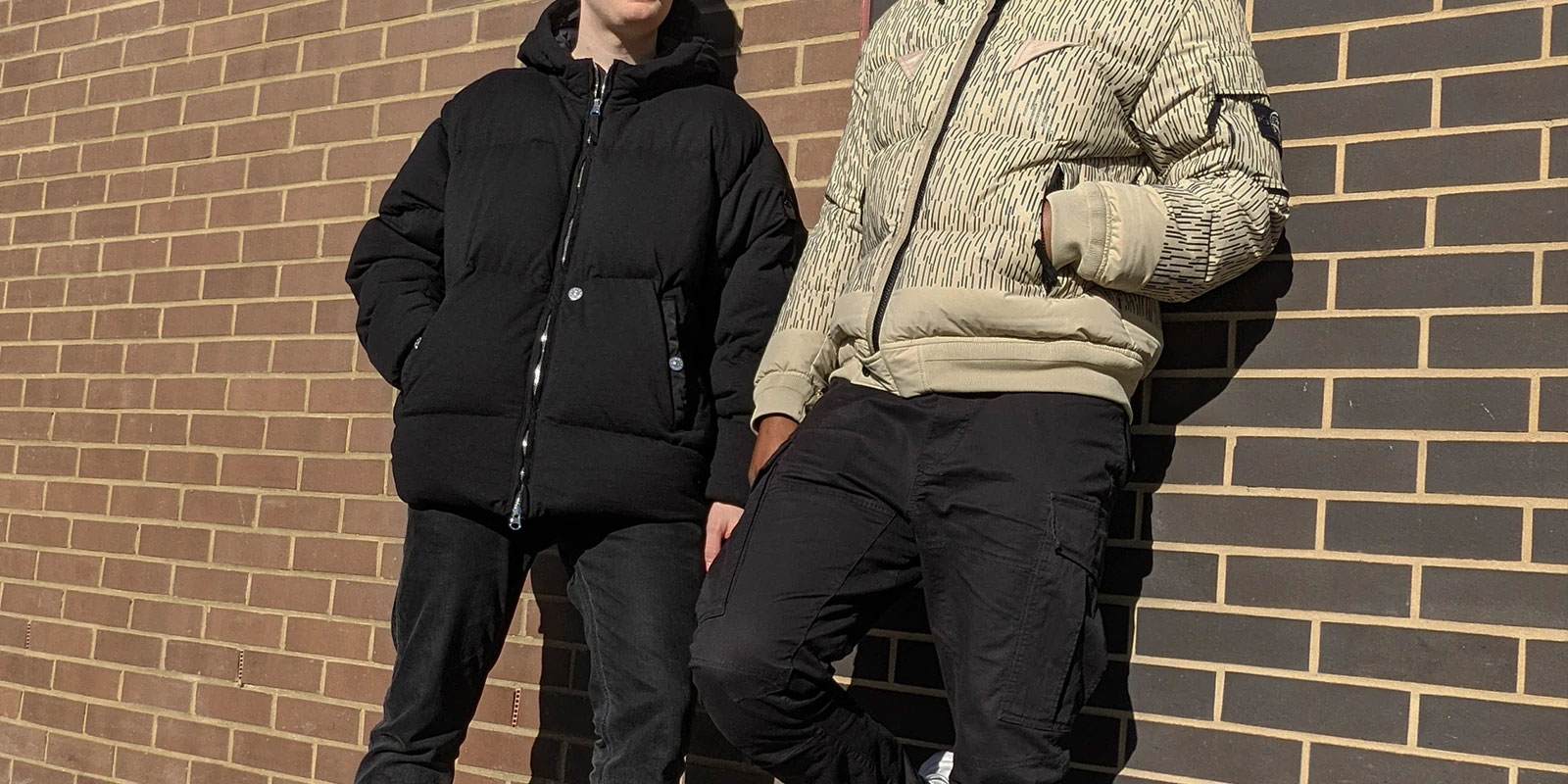 Stone Island Ecru Naslan Light Watro Rain Camo Down Jacket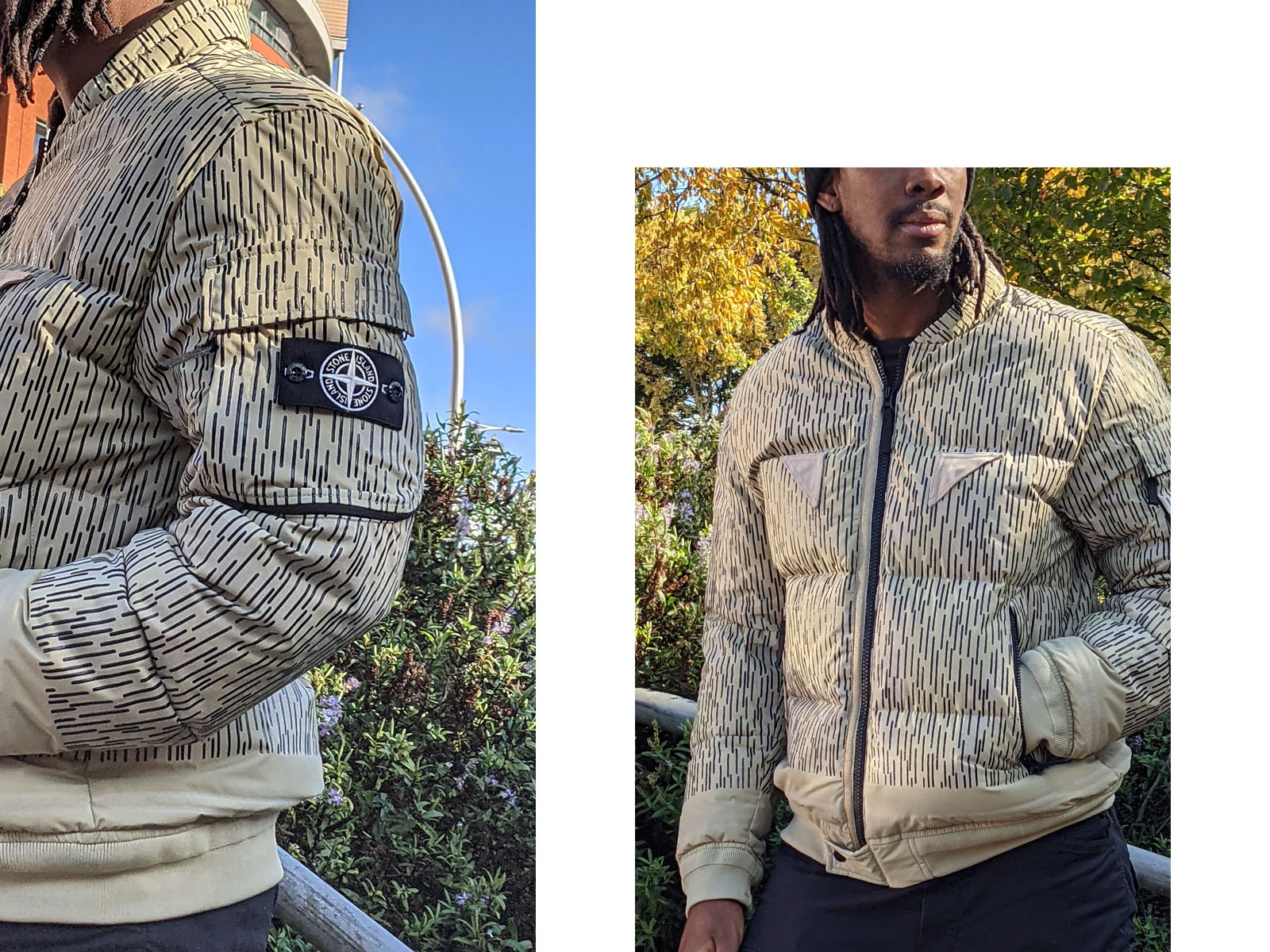 The seasonal 'Rain Camo' graphic from Stone Island is an undisputed highlight from their latest collection and we'd argue that it's best deployed in this featured Naslan Light Watro Rain Camo Down Jacket. It's a truly powerful silhouette that represents the very best traits and tendencies of the Stone Island brand. Garment performance and technicality are again at the fore with features including a resin-treated finish for enhanced wind and water repellency, while the 'Rain Camo' motif itself is a wonderful example of their commitment to graphical innovation in their designs. Oh, and did we mention that the print is enhanced by a smattering of reflective panels throughout? A true outerwear tour-de-force fit for all manner of urban adventures.